The NHTV International Game Architecture and Design course, from the perspective of a Visual Artist.
For an aspiring video game artist, it can be difficult to choose a good school to study at. You could always try to let your portfolio speak for yourself and try to push your way into the industry without attending some form of higher education, and, in many cases, this can work. Of course, if you're talented enough to make a move like this, more power to you! But if you're like me, and you would prefer to get a good overview of game design and development in general, as well as experience all the varied aspects of game artwork production, then going to a game design course can definitely shed some light on the subject. In the case of the International Game Architecture and Design course, however, they do more than shed some light; you'll actually need to wear sunglasses to handle the intensity of the course. This is, of course, a terrible metaphor, but it does illustrate a very serious point: This course is rough, it's intense, and it's very serious business.
"The course is hard, but worth it in every way"
~ Karim Baz: 3rd Year Visual Artist
The intake procedure alone is very rigorous and highly selective. Only the students which submit artwork that shows serious potential are handpicked by the school, and in most cases, the students hand chosen by the school are the ones who succeed in the course. When applying for the course, the teachers will be harsh with their criticism, and won't hold anything back, but what you get in return is a sincere review of your potential talent, and an honest recommendation of whether or not pursuing visual art will be the right path for you. In the end, whether or not you make it in, you will definitely have a better perspective on your potential career as an artist, and, in my opinion, it's better to have brutal honesty when you're still in a place where you're flexible enough to change your direction in life, rather than fill you with false hopes and encourage you to pursue a dead end.
"In my opinion, IGAD is a deep pit into which you are being thrown, and you will have to work your ass off to climb back out, but once you get out you'll have all the experience you need."
~ Daniel van Leeuwen: 2nd Year Visual Artist
The environment at IGAD is truly one-of-a-kind. If you can imagine any off topic forum of any video gaming enthusiast website, imagine four-hundred of those users sitting in building in real life. If you've lived on forums, in MMORPG's, or have spent a large amount of your childhood playing video games and participating in gaming culture, you'll immediately feel right at home. All of the stigma from high school and the general student pressures fly out the window, and finally you're placed in a school with only students who you can completely relate to.  Not only that, but the teachers themselves hold true to this model as well. They are industry professionals who have paved the way for modern gaming, and took part in creating gaming culture as we know it.
"IGAD is a course way different than any other course you've seen; it's an education which strives for perfection, professionalism and team-work. For me personally, it's more about working and having fun with the people you meet during the course, while staying focused and practicing the knowledge you learned."
~ Chi Wong: 2nd Year Visual Artist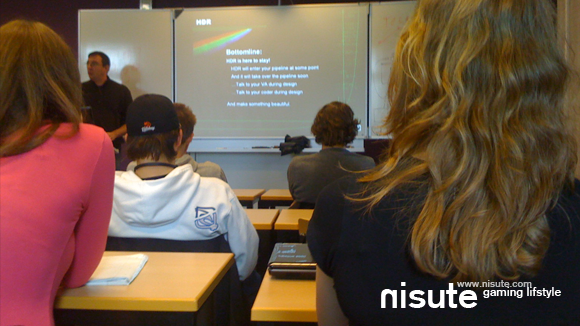 The classes for visual artists range from 3D modeling and texturing to rigging and animation, and even character design and level decoration. Every aspect of art production in the gaming world is covered, along with all the traditional art bases necessary: drawing skills, life drawing, and art and architectural history. These classes are given in such an order that the student can easily learn from the ground up, and goes from the bare minimum basics to the hardcore professional level artwork they aspire to ultimately achieve.  The projects given are strenuous, and they are numerous every block. The student is literally bombarded with work from day one, and the workload only gets greater and greater as you continue along the path at IGAD. This becomes a test of endurance and skill, and only the truly talented and dedicated students prevail. In my personal opinion, the measure of your success in these art driven courses does not stem from your level of talent or expertise, but rather it comes from personal improvement. If you enter the course with no background in 3D modeling, and by the end of the second block you've created an industry standard piece of geometry, that already shows that you have a thirst for knowledge and the willingness to work to achieve your goals. In the end, I personally feel that dedication and taking the course very seriously are the keys to succeeding.
"What I really like about IGAD is that it offers me to become a professional in what I used to think was only possible as a hobby. "
~ Jeffrey Oort: 2nd Year Visual Artist
The course is not strictly about artwork however, the student also receives classes ranging from Narratology (the study of storytelling and narratives) to Ludology (game design theory) to Graphics Fundamentals and even Game Production classes. These are all the extra courses which might seem less interesting to some art students, but in the end they are the courses which give you the greatest balanced overview of game production as a whole, and truly allow you to understand everything it takes to create a quality title. I feel that these "extra" courses are really the backbone of this education, and bringing yourself to take them seriously and treat them with enough respect and care will be what allows you to perform well in not only this education, but in a professional working environment in the future.
"Hard as hell, but the first year has been a blast."
~ Erwin Heyms: 2nd Year Visual Artist
The teachers at this school are also genuinely one-of-a-kind. In a typical university situation, teachers explain large amounts of theory and test the students on their understanding and interpretation of this theoretical knowledge. In this course, students do receive a healthy dose of theory, as it should be. However, more importantly, the students receive extensive amounts of practice and are forced to work constantly to achieve the proper standard set by the lecturer. I feel that the fact that we need to actually spend hours upon hours on end working on a single assignment is what really teaches us the important lessons we need; as the best way to learn is to make mistakes and correct them yourself. I can tell you from personal experience, I've made dozens of mistakes on this course, but every single one has taught me a valuable lesson, and I was always able to come back from it with more than I had lost to begin with. The lecturers are all industry professionals, who use their lectures and lessons to not only give theory, but share personal experience of the pitfalls of game development, so that after this education, the students will emerge well prepared for the worst, and perform better in a team of professionals. For an industry as demanding and competitive as game development, I truly feel that this is the best and only way to teach this material so that a student can really be more than prepared for what the actual industry will expect of them.
"The lessons are focused to teach you a set of skills and knowledge, and drive you to be the best you can be. I personally missed a vital part: the ability to keep an open mind. Things were a bit too structured for my taste. In the end, however, I am more than happy with the course."
~ Wytze van Balkom: 2nd Year Visual Artist
The final aspect of IGAD, which is certainly far from the least important, is the Gamelab course. Gamelab puts students into small teams of artists and programmers, and asks them to create a game in fourteen days time, spread out over half a school year. This is as close to a realistic industry situation as you can get without actually being a worker in the actual industry itself. The teachers function as your guides, but also as the producers and management, and everything you do needs to be passed through them in a professional manner, and if you can't manage to impress them, you need to go back to square one. It can be an extremely rough experience for most, and the games will almost never come out as originally intended, but in the end, what you take away from it will certainly, in my opinion, be the most educational and influential experience you will ever encounter on the IGAD course.
"Well, for me, Gamelab is a way to test your skills in an environment that is competitive, but educational. You learn new things and learn to work in a team, as well experience what it feels like to be stressed in a team situation, and overcome adversity. I feel it is the closest thing to real life, but in a safe environment."
~ Marvin Roelofs: 3rd Year Visual Artist
At the end of the day, I personally am more than happy with what I have learned in only one year on the International Game Architecture and Design course, and eagerly await the next three installments to come. I have no doubt in my mind that this education will be the foundation which will take me all kinds of places in the future, and I consider myself very lucky to have made it in and to have been able to take part in such an amazing course. I really do think that this course works extremely well for an aspiring visual artist, and as long as the course is taken seriously and treated with a professional attitude, what will be taken away from it will ultimately be much more valuable than the bachelor degree itself.