Nisute went to the Jaarbeurs in Utrecht to see where the Education sector of the Netherlands were in context of applying games and game mechanics to their respective trade…
"The power of KINECT in Special Needs Education"
In collaboration with Microsoft, Special Needs Educator; "De ruimte" has researched the benefits of using Microsofts XBOX360 accessory to enhance the lives of young children with physical special needs.
Because of a limited budget in time as well as financially researchers Willemijn de Lint and Hans Smeele chose to use existing KINECT games in combination with some extra peripherals in order to optimize the experience and benefits. KINECT sport was the most prominent game used. A kind of balance board is one of those resulting peripherals, a skateboard whose wheels have been replaced by half an ellipse to increase the required balancing during the mini-games.
The project was also done in collaboration with Kennisnet, Expertise Centrum Netherlandsand Helioskoop and the resuts are quite interesting, especially as facets of the Self-Determination theory came forward in a truly positive way!
Through their exercises Willemijn de Lint en Hans Smeele have proven to be able to improve the balance, stamina and motivation of their students by stimulation their perceived autonomy by allowing the students freedom of choice in their selected games in combination with feedback systems (the games feedback) the students feeling of competence increased and as most games were done in collaboration with other students their Relatedness increased. The beauty of it all is because "They are the controller" their perceived Competence, Autonomy and Relatedness are actually linked to their real-life percieved CAR. The students reported an increased ability when functioning in the real world which is of course a great feat!
One of the things that really stuck with me was that the trick was to not focussing on motorics training allows learning to take place on an automatic, sub-conscious, level. This of course is called tangential learning as the students focus is on the game and not on their actual muscles and posture.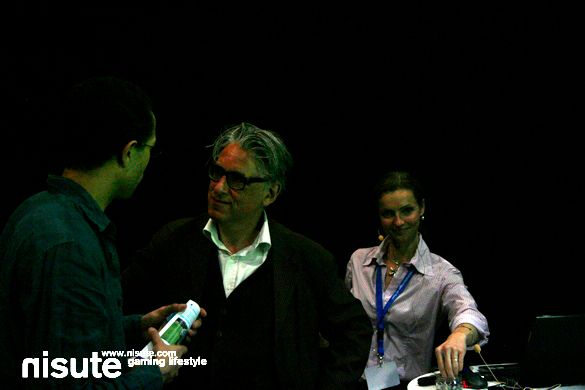 "Gamification in the classroom, a unique presentation"
The rest of the convention was actually quite a dissapointment… lots of touch-screens (with no applications I must add!) a few games which were nothing more then the 'old-way' of teaching with a skin of mini-games and low quality drawings to boot.
Until Nisute entered the presentation area of Margreet van den Berg, who has a very lively and gameful personality. Margreet has focused her career on information and communication with a special interest in games.  Unlike most presentation she started by saying she was called by a minister telling her that she, against all odds, has become the new host of a very old Dutch TV gameshow called "1 van de 8" originally hosted by Mies Bouwman. Margreet, from then on, referred to herself as Mies and in my notes I actually refer to her as Mies so… well played madam 😉
(skip to 24 seconds! )
http://www.youtube.com/watch?v=NdY9O_IaSQ4#t=24s
In this ancient gameshow (The dark ages where TV was still in black and white) items on a conveyor belt would scroll past the players. Each item was a symbol for something. After all the items scrolled past each player was asked in turn to recall an item for points and if they could guess the meaning of the symbol they would get bonus points. This would go on until all items were guessed, the players couldn't remember anything else or time passed. Mies.. eeurhm Magreet did the same but in team form and divided her audience in 4 and had 20 items scroll by at high speed across her beamer. leaderboard, subway map, medals……. so fast!!! hope I can remember them!!
Leaderboard: To create a sense of competition by showing intermediate and end results with details like time, average time per task etc
Subway map: Design a game in such a way that each player can choice their own route and strategie. Does the player like defensive or offensive play? Does the player like to take small or big risks? etc etc
Medals: Only rewarding players at the end of an exercise can take a long time and thus ask a lot from your players therefore Mies advices to also provide intermediate rewards to keep players interested and gives examples such as rewarding concentration, cooperation, effort, etc
There are 20 elements which Mies used in her presentation/game-show, but I will not elaborate on these..
After the show I talked with Mies as I believed she could be helped by the "Adding Play" card set that shows all kinds of gamification elements and helps produce a design by selecting cards. During our little chat she mentioned she is a judge at the Creative Game Challenge a Dutch competition to make games within a certain theme, sadly the competition was already ending when we spoke but there will be another chance next year!!