It took me way more then a split second to get this installment of Ridge Racer.
I like the style of the game and the interface is really smooth. I'm rather put off by the difficulty though, I'm not getting the Drift like I want to. Let me explain a few things about the game. The game takes place in the city 'Shatter Bay' and it's about a gang called 'The Unbounded' that instigates several races in the city. Nothing strange so far, but here is the twist: you have the ability to shatter buildings, obstacles and other racing cars in this game. If you demolish an opponent, it's a Frag. Furthermore, you don't crash that easy, you can drive through most small materials without slowing down your car. While chasing, drifting and smashing, you gain power. When your power bar is full you have the ability to demolish cars, buildings and obstacles and gain a short moment of extra speed.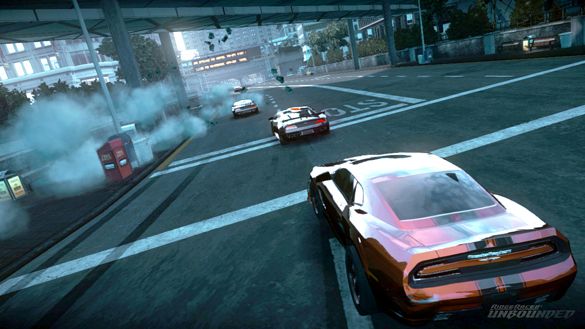 The idea is pretty neat, but the way it's executed has it's flaws. For example, you have to hit the buildings right on the spot, you don't get the freedom to smash through everything around you, although the engine could have allowed you to do just that. This means that the shortcuts you take are the same for every rerun. The game makes up for this for having an amazing map editor in which you use track parts and are free to combine them into full-fledged circuits. This creates a lot of replay value and it's used online. So you can race each-other's races. To be sure that your custom race is drivable you have to accomplish the goals you set for the race. You have Domination Race, with the standard power bar. There are 'normal' races, with a nitro bar in stead of power bar, called Shindo Racing, you have Frag racing in which you are required to obtain a set amount of Frags.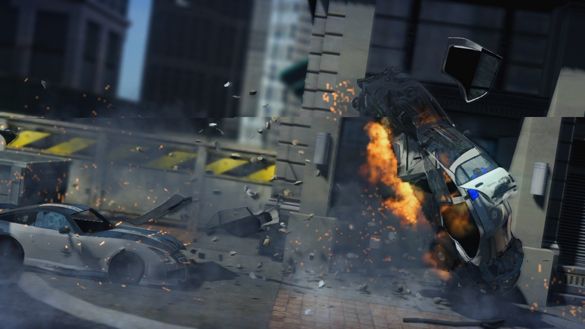 In some versions you can drive a truck or a police car. Then there is also Time Attack & Drift Attack.  The game uses different cars for different tracks. Whatever the track, you'd have to unlock cars by gaining experience. There are several ways to gain experience. You can finish first, second or third. It is possible to gain experience by fragging opponents, smashing buildings & obstacles, sustaining heavy damage and collateral damage. Of course, online there are custom races that let you gain immense amounts of experience. I wish I had known about that earlier on, because I feel that the way you're supposed to get experience doesn't always cut it.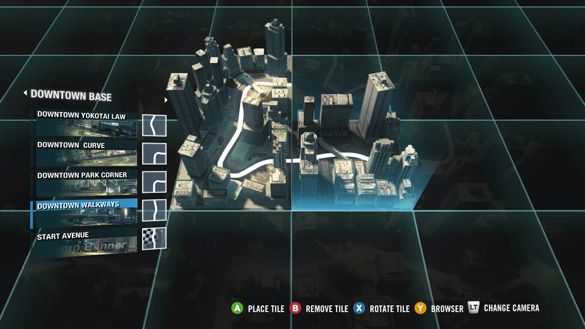 Furthermore, it seems to me that to be able to finish first in some races, you'd have to be able to drive all cars. That's a strange kind of re-playability if you ask me. I have been driving some tracks several times and stopped doing that a few times, just because those races gave me little to none experience. Especially Time attacks have this, because they only give experience when you make it in time. All in all, it's a good and decent game, it's challenging, it's possible to be creative with the track editor, it runs smooth and the loading times are reasonable. Unfortunately, that's all.
67% out of the 100