Remember Mario Kart, remember Diddy Kong Racing. Now take those memory's and hold them tight because your about to relive them in SEGA's new racer Sonic All Stars Racing Transformed! This colourful racing game might look childish to some people. Just let me reassure you you will have a hard time beating this game on the hardest settings. Do not worry the whole game can be played with 4 players. So if you team up with your friends than you will be able to take that first position. Unless your friends will beat you to it. There are loads of game modes to choose from and they all have their unique fun moments.
The main campaign is the Career Mode which, along with returning features such as Grand Prix, Time Attack and Single Race and can all be raced with friends. The tracks that SUMO designed are not only diverse and beautiful  every round on the track can trigger different routes and events taking you off the road in to the water or up in to the air.  It often even gives you the choice on what you want to do.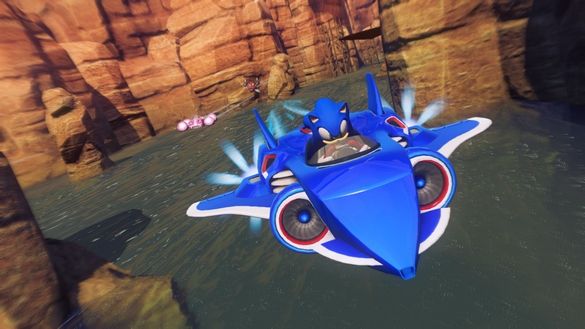 Weapons are fun to use and well balanced. There are loads of  projectiles (ice, whirlwinds and fireworks) to shoot point blank at your opponents.  Speed boosts (is an overheating hotrod engine that must be dumped before it blows up) or Turbo.  And then there is the Swarm that sends out a swarm of wasps to the driver that drives at first place. You can defend against attacks with a glove that catches the things that players shoot at you and than your able to use their powers against them. Or use the blowfish as you drop it behind you.
The real fun starts when your with friends online or offline taking each other on head to head of teaming up. From  racing, battle (Arena) and Lucky Dip. All can be played with 4 players offline or 4 players on 1 console online against 6 other or when your alone with 9 other friends online. And all running smoothly without any slowdown. You can tell that they have most definitely looked ate Mario Kart 7 for inspiration but we think that SEGA did a better job at it this time.
Altough not everything is great. There are some drawbacks, The boats and planes can be hard to master. And the stunning colourful highly detailed graphics can confuse you sometimes.  This all does take some time to master. Eventually knowing the tracks by hart and mastering the plane and the boats it all becomes acceptable. Every track (there are over 25 of them) has its own challenges and every racer (there are over 20 to chose from from Sonic to Wreck-it Ralph )  have their own weaknesses and strong points for you to discover.
Sonic All Star Racing Transformed is a great family game and will be fun for a long time while playing with friends. Also the low price of the game and the high replay value does this game a lot of good.
There for we give this game an 87% out of the 100% 
(WiiU, PS3 and XBOX 360 versions Tested)