A few weeks back I went to the opening of the Dutch Game Garden in Breda. This time I visited its older Utrecht counterpart for an interview with the independent game company Excamedia. The Dutch Game Garden in Utrecht has just moved to a new location inside the 'jaarbeurs' which is practically attached to Utrecht's central train station. Finding the new location of the Dutch Game Garden in the 'jaarbeurs' was quite a challenge as the incubator has yet to properly signpost its new location. Once inside though, I quickly found my way to the Excamedia office.
Inside the office I found a team of around twenty people hard at work behind their laptops. Heiny Reimes, who I would meet for the interview, had just gone out to make arrangements for their stand at the Dutch Comic Con, so I received a tour around the studio by one of the animators. Multiple teams were clustered together in the office, each working on their own project. One team was working on A Clumsy Adventure, a platform game for the PS Vita. Another team was working on Nano, a multiplayer version of arkanoid which can be played either cooperatively or competitively with your friends. Another notable project is a Virtual Reality game which Heiny described as fusion of F-Zero and Quake. I had the opportunity to play some of these games afterwards, but more about that later.
A few minutes later Heiny walked into the office and we sat down to talk about Excamedia. Heiny Reimes is the studio's creative director. He is the vision holder of the projects that are being made at Examedia and supervises and supports each team in the development of their game.
Excamedia is not your average indie developer. Most indie developers work on a single game because they often lack the funds and manpower to work on multiple projects at once. But Excamedia has an unusual business model that allows them to work on multiple projects at once. Excamedia currently employs six professionals and twenty or so interns. Because Excamedia has so many interns working for them they are able to support multiple projects at once. If the company had hired regular employees instead, they would not have the workforce required for the simultaneous development of all these projects. And because these interns form the majority of the company's workforce they essentially function as regular employees. Maarten van Zanten, CEO of Excamedia, wants their interns to have the opportunity to work on Excamedia's projects with all the experience, ownership, and responsibilities that come with it. He believes this is the best way for them to learn. Limiting their contribution to smaller and less important tasks would only be a detriment to both sides. And this is great for students, because there aren't many options for game industry internships within the Netherlands.
But why is it that Excamedia develops so many games at once instead of focusing on a single one like other independent studios do? Heiny Reimes explains to me the development philosophy of the company and how that has shaped their development process.
At Excamedia they believe that working on a project that you're passionate about is something that is extremely valuable. The intrinsic motivation of working on a project you care about is something that cannot be matched by any form of extrinsic motivation. That is why Excamedia works on so many projects at once, so they can offer their interns the choice of which project they want to work on. Heiny Reimes believes this results in both a better product and a better experience for the interns. "In a way, it is kind of like google does things," says Heiny. "You work what you want to work on."
Heiny elaborates on the kind of games they make and how that fits with their business model. Excamedia focuses on developing what Heiny calls 'snack titles', small games with console level quality. Think titles like Geometry wars and Roche Fusion, the latter being one of Heiny's previous games. These titles are smaller than other indie games like Braid and Fez but in terms of gameplay and polish they offer more of a console experience than a mobile one. The main advantage that these small projects have for a company like Excamedia is that they don't require too much manpower or time to develop. This means that Excamedia can have a number of small teams working on different projects at the same time. And because the company has multiple projects in the works, it means they can afford to put a project on hold or abandon it entirely. Excamedia has created a development environment for themselves where they aren't financially dependent on any single project. So if a project project doesn't work out, this has no major consequence for the company. This is a great safety net to have in the game industry, since delivering a failed project often results in the studio responsible closing its doors.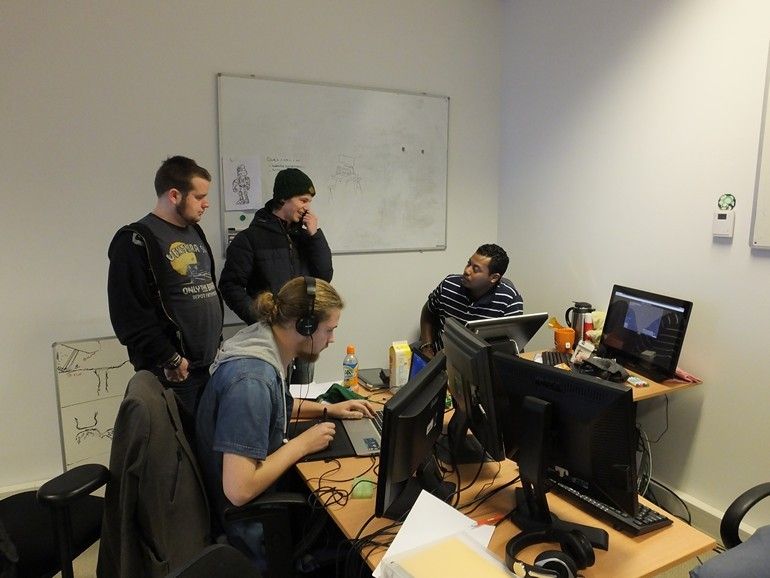 But their game projects aren't the only things Excamedia is working on. They are also collaborating with the Chinese company behind the ANTVR to bring the product to Europe. The ANTVR is a virtual reality headset has been designed to work with both PC and consoles. Granted, consoles may not have the specs to actually render imagery required for an immersive VR experience, but it is promising nonetheless that this area is being explored for the future. As a bonus, the ANTVR comes with a number of accessories too. The most interesting one being a lightgun that has a grip which can be detached and folded open to double as a controller. While this is a cute addition to the VR set, the controller feels very light, clunky, and cheap. So unless the ergonomics of the controller are improved, I can't see myself ever using it.
The VR headset itself though left a fairly positive impression on me. Do note that I have little experience with VR as the first development kit of the Oculus Rift is the only other VR headset that I have worn. But compared the Oculus DK1, the ANTVR was much more comfortable to wear if you are a spectacled person like me. So one point for ANTVR for getting that right. The game I got to try with the headset was a game that is being developed by Excamedia. Heiny describes it as a cross-over between F-Zero and Quake. In essence you are racing along a series of tubes which you can jump between and you can fire on your opponents to make finishing their laps a bit harder. The version I got to try was still in development though and because of that some framerate issues were present that deteriorated some of the VR experience. I'd have to try the ANTVR again with a stable version of the game to judge the quality of the headset's refresh rate. But one thing that I can say with certainty is that the field of view of the headset does not disappoint.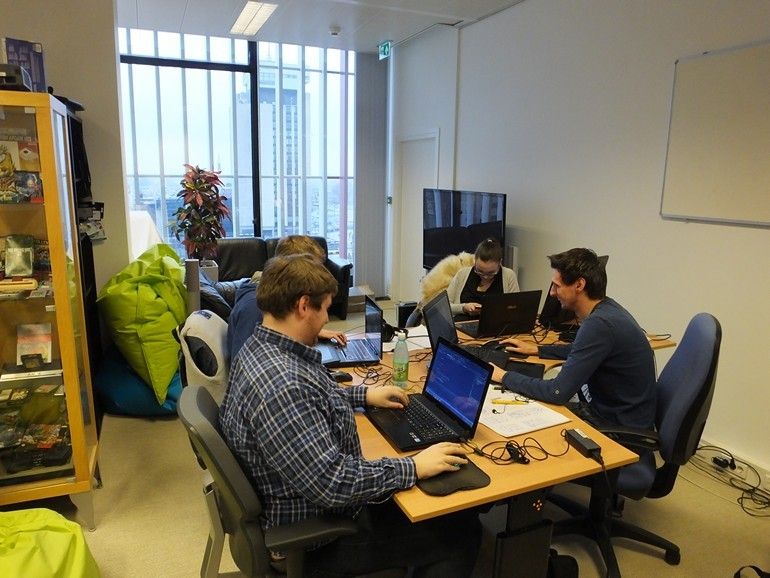 I also got to try out some of the other games Excamedia has in production. One of those was A Clumsy Adventure which is a title for the PS Vita that the company is currently working on. Development of the title is still in a very early stage so I was walking and jumping around in a whitebox environment with still a lot left to do, but the basic mechanics were up and running. The other title I played was the demo build of Nanos which Excamedia has made available to download for free. So instead of me rambling about the game, have a go at it yourself! Note that the game is a bit rough around the edges and that there are still some bugs here and there as it is still in development.
Overall my impression of Excamedia is a good one. The company has large ambitions but manages to realise them in an effective manner. Most importantly of all, Excamedia offers good opportunities for students to enter the game industry and that is something extremely valuable for a market as competitive and hard to enter as the game industry.