A lot of gamers have wondered whether or not the Elder Scrolls Online would be free to play or require a fee. Well Bethesda has confirmed that there will be a fee after the first thirty days after purchase. It will require you to pay 15 dollars a month after your thirty days are up. By adding a fee to the game, the developers are able to add content without disrupting the player. Read more
Bethesda recently teased us with the announcement of Project Zwei, a mysterious new game project that has now revealed to be called ' The Evil Within'.
The Evil Within is a collaboration between Bethesda and Tango Gameworks, the company of Resident Evil-creator Shinji Mikami. Perhaps unsurprisingly, the game will be a survival-horror game. After being known for quite some time as Project Zwei, the game is now to be released under this new title and planned for 2014, on Xbox 360, PS3 and the next generation of consoles. Not much information is known about the game as of yet, only that you'll control detective Sebastian on an investigation to discover who's responsible for the gruesome death of several colleagues. During this quest he enters a world full of nightmares and gruesome events, that are sure to not leave him unaffected… Also, the game apparently makes use of areas that change while you are traversing through them (whether this is scripted or random has not been revealed yet)! Besides this information, only a trailer without actual game-footage and several screenshots have been released. The screenshots show us the game will be a third-person game and is looking to ooze a dark and gruesome horror-atmosphere. We will have to wait and see what the final product will bring us, but colour me interested!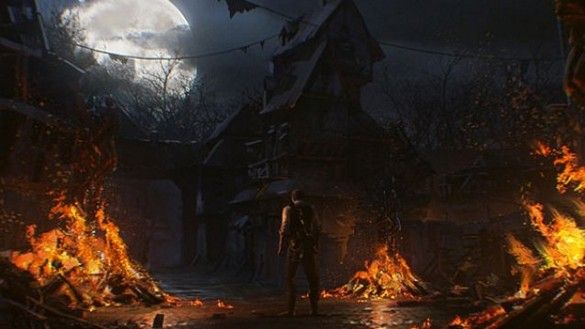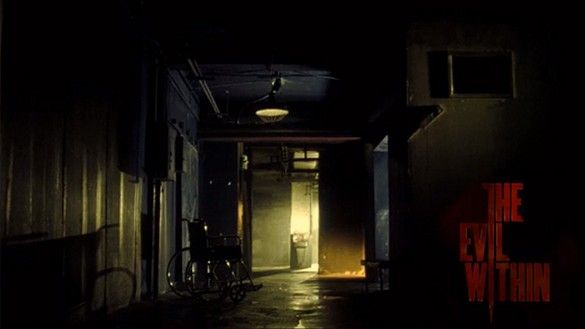 Bethesda's Dishonored has left people intrigued ever since they announced the game and released the first footage. A mysterious assassin wearing a peculiar mask sneaking through a steampunk world utilizing a set of powers borrowing from just about everything awesome automatically makes it interesting, doesn't it? Expectations for the game are naturally very high and most people at Gamescom were eagerly awaiting their chance to experience it first hand. Nisute took that chance as well, but at Bethesda's own quiet and private booth in the business area (so no waiting).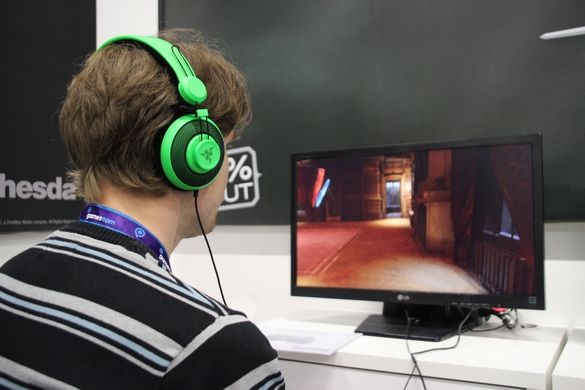 From the moment the short introduction is over and you are left to your own devices, the sense of freedom kicks in. Sure, you have an objective and the location you need to go is clearly shown and always the same, but yours truly must have spent 40 or more minutes getting to a point you could easily reach in 5 minutes or less. Part of it was getting to know the control scheme and dying over and over, part of it was testing, but most of it was exploring and having fun. Sneaking up on guards (even if you can avoid them completely) felt especially rewarding and the large array of weapons and powers at your disposal gives you plenty of options to go about dealing with your enemies. A crossbow with 3 different types of ammo, a pistol, a knife, shrapnel traps, grenades, windblasts, swarms of rats… There's a good number of possibilities here making it fun to go about each encounter. It's even fun to find enemies and try to take them out without being seen or in spectacular ways just for the fun of it, and not because it furthers your goals even in the slightest.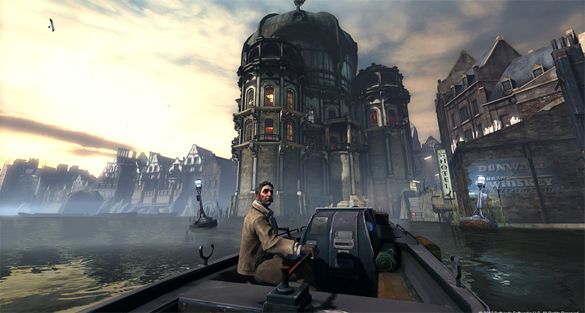 Many members of Nisute's Gamescom 2012 team agree that Dishonored is accurately described as a mix between Skyrim and Bioshock, a dash of Assassin's Creed added in thematically. The Bioshock comparison is reflected in the special powers Corvo (that's the protagonist, a name for a true boss because it's Latin) uses, as well as the steampunk vibe it oozes (though the setting is quite different) and the game's like Skyrim because it was made by Bethesda. More specifically, it uses a first person perspective, a control scheme reminiscent of Skyrim and a different use for each hand. That's right, you can equip whatever secondary weapon you like in Corvo's left hand. His right hand has his trusty dagger glued in. Almost like Skyrim.
Enough about that, let's get to some killing. Though you are an assassin, you don't actually need to kill at all (well, not in the demo we were presented with at least). Guards can simply be choked out if snuck upon from behind or be rendered unconscious by use of a crossbow loaded with fast-working sleeping darts. Even the object of the main mission, a noble lady that needs some assassinating as it seems, does not need to be finished off if appropriate steps are taken. Whether or not this is typical for the entire game remains to be seen, but judging from the many ways you can kill your opponents and the use of your powers it is unlikely many people choose this path.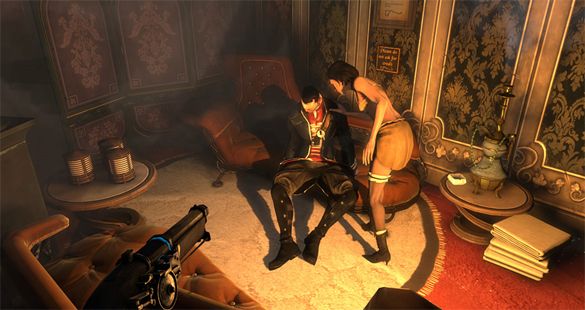 Among the many ways to dispatch your opponents are straightforward ones like simply shooting or stabbing them, but you can choose to sneak up on them and go for the jugular, blow their head clean off from a distance (apparently a crossbow bolt does that to you. Don't ask. Didn't make it less awesome though) or using the environment in clever ways. Though killing is fun, there's actually one aspect of being an assassin that proved to be even more fun: to be sneaky and cunning. Finding your way to your destination unseen is much more fun in these kinds of games and Dishonored isn't much different. Finding out the various ways to get to your target and undo them is also a real challenge, and the fact that game doesn't hold your hand is welcomed.
Despite this, Dishonored didn't feel like a stealth game. The sum of all the features made it appear to be an action game first and foremost, and any approach you take to the game will likely be viable (although watch out with playing Rambo). The vibe you get from watching the reveal trailer wasn't really invoked during the demo, but it certainly kept yours truly entertained and interested in more. It remains to be seen in which direction Bethesda will take Dishonored but the initial impression of the game proved to be a decidedly positive one.
You can mark May 3rd as the day Bethesda Softworks (finally some would say) outed their upcoming MMO The Elder Scrolls Online.

Not much is known right now but game director Matt Firor, a man who has spent the last two decades working with online game development, had this to say; "We have been working hard to create an online world in which players will be able to experience the epic Elder Scrolls universe with their friends, something fans have long said they wanted," "It will be extremely rewarding finally to unveil what we have been developing the last several years. The entire team is committed to creating the best MMO ever made – and one that is worthy of The Elder Scrolls franchise."
If the simple announcement isn't enough to satiate your desire for Elder Scrolls then maybe this little teaser trailer might.
Bethesda is showing of their new IP Dishonored. The game that is scheduled for the current generation game consoles and PC. Up to now there is now release date. But the Assassins Creed like sneaking around on rooftops while having magic like powers in a Bioshock kind of would sure looks interesting. Well here is what Bethesda has to say about it. in the mean time keep your eyes open for more information on nisute.com.
Dishonored casts you as a supernatural assassin driven by revenge. You are the once-trusted bodyguard of the beloved Empress. Framed for her murder, you become an infamous assassin, known only by the disturbing mask that has become your calling card. In a time of uncertainty, when the city is being besieged by plague and ruled by an oppressive government armed with strange technologies, dark forces conspire to bestow upon you abilities beyond those of any common man.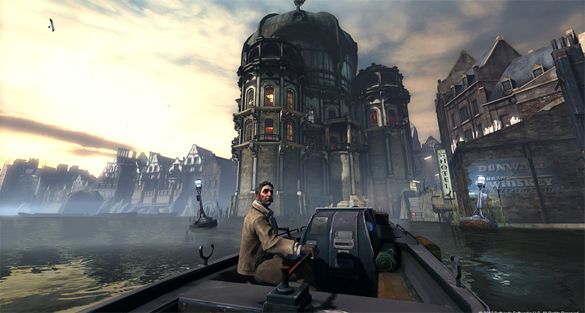 In Dishonored, creatively eliminate your targets with the flexible combat system as you combine the numerous supernatural abilities, weapons and unusual gadgets at your disposal. Pursue your enemies under the cover of darkness or ruthlessly attack them head on with weapons drawn. The outcome of each mission plays out based on the choices you make. For more information on Dishonored, visit these sites: http://www.dishonored.com https://www.facebook.com/dishonored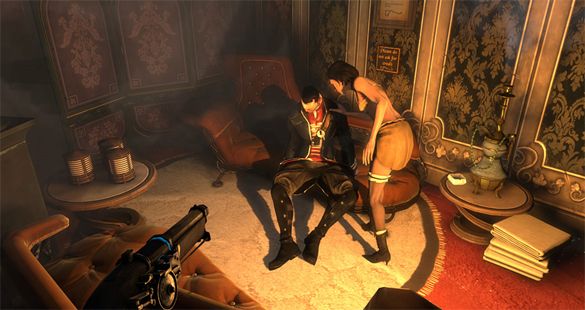 On the 10th of June I attended a public conference, namely the Never Ending Conference at the NHTV-building in Breda, where people give lectures about technology, philosophy, design and problems in the gaming industry. During this conference, which was the third one in a row, Bethesda's Joel Dinolt who's acquainted with one of our lecturers, gave a guest lecture about game architecture and the state in which the games industry's in.
Here is the list of speakers who each gave their own speech, and I can tell you will notice that each of them has their own passion for what they do, which is passed on to you through their presentations. Read more
Developer Splash Damage brings us the game for the Xbox 360, PC, Playstation 3 and its looking very promising indeed!
Game Overview
Brink is an immersive first-person shooter that blends single-player, co-op, and multiplayer gameplay into one seamless experience, allowing you to develop your character whether playing alone, with your friends, or against others online. You decide the combat role you want to assume in the world of Brink as you fight to save yourself and mankind's last refuge. Brink offers a compelling mix of dynamic battlefields, extensive customization options, and an innovative control system that will keep you coming back for more.
The Story
Brink takes place on the Ark, a man-made floating city that is on the brink of all-out civil war. Originally built as an experimental, self-sufficient and 100% "green" habitat, the reported rapid rise of the Earth's oceans has forced the Ark to become home to not only the original founders and their descendants but also to thousands of refugees. With tensions between the two groups growing, Security and Resistance forces are locked in a heated battle for control of the Ark. Which side will you choose?
Game Features
Not Just Another Hero
Brink's advanced player customization offers a near-endless combination of looks for your character – allowing for the appearance of your character to be truly unique. As you progress through the game and acquire more experience, you'll have even more opportunities for customization.
Two Sides to Every Story
Choose to fight through the single player campaign as either a member of the Resistance or the Security and then take your same character online to play cooperatively or competitively against other players.
Blurring the Lines
Take your unique character online at any time you choose! Brink allows you to seamlessly move between your single player campaign, co-op with friends, and intense multiplayer action. Multiplayer takes the story online where you can play with up to seven other people (or AI characters) cooperatively as you take on the opposing faction or with up to 16 players competitively.
Play SMART
Brink uses the familiar shooter controls that you're used to, without frustrating, artificial constraints and adds a new feature: the SMART button. When you press the SMART button, the game dynamically evaluates where you're trying to get to, and makes it happen. Whether you're a seasoned FPS veteran or someone just getting started, you'll be able to make more intelligent decisions during the fast-paced action with SMART.
Context-Sensitive Goals and Rewards
Objectives, communications, missions, and inventory selection are all dynamically generated based on your role, your condition, your location, your squad-mates, and the overall status of the battle in all gameplay modes. You'll always know exactly where to go, what to do when you get there, and what your reward will be for success.
Images: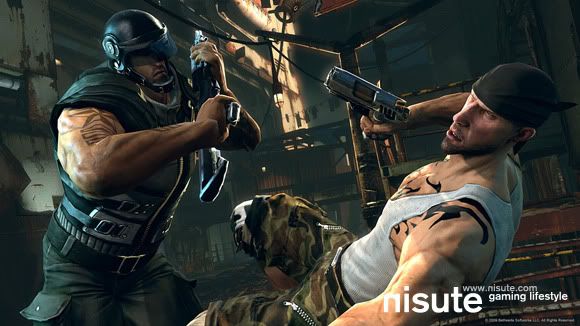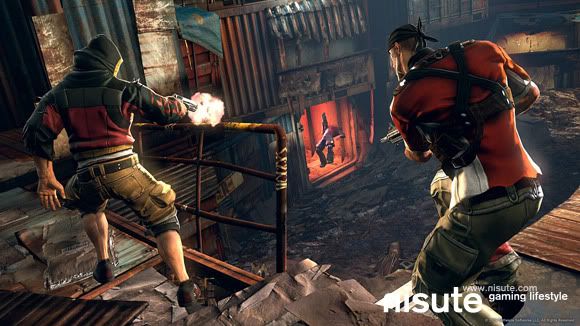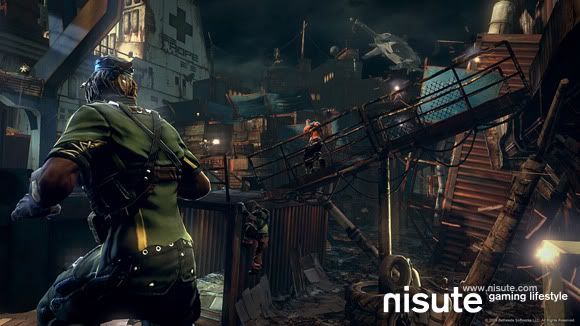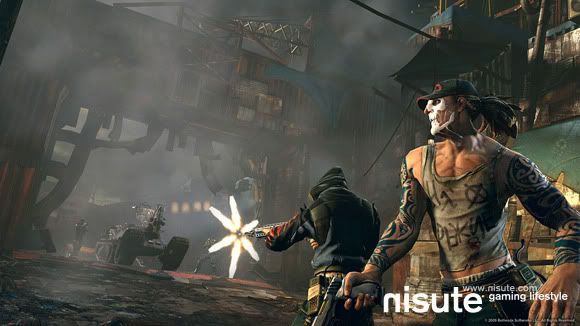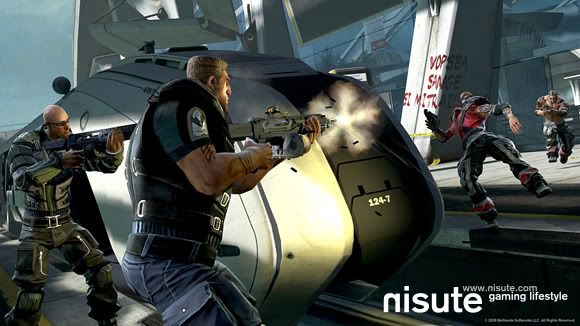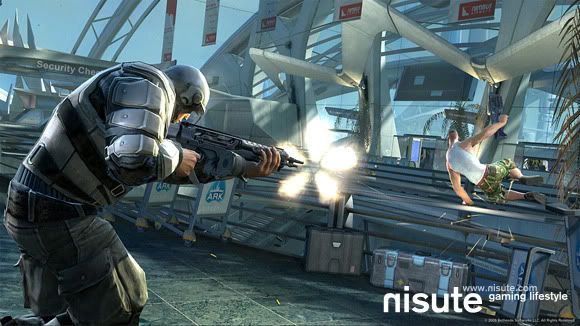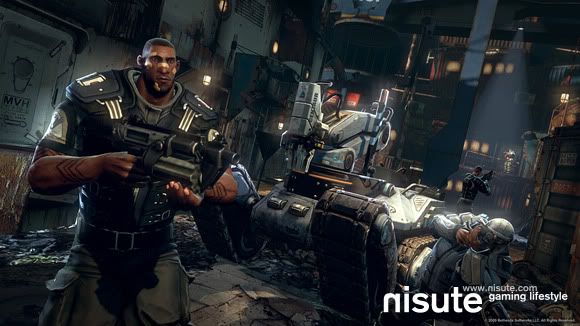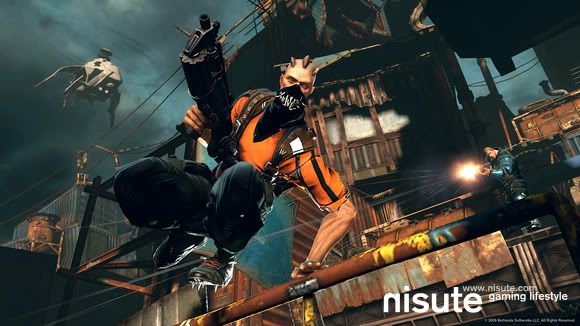 Video's:
Freedom of movement:

container city preview part 1

container city preview part 2

container city preview part 3

News broke this morning that ZeniMax Media has acquired id software.  Geoff Keighley of Spike TV announced it today via facebook, and shortly posted the press release thereafter.
To say that this acquisition is huge would be a crime to the actual event.  This is one of the largest mergers to happen since Activision and Vivendi Universal brought franchises like Call of Duty, Guitar Hero and World of Warcraft together.
With id settled firmly in the family of developers under ZeniMax, franchises like Doom and Wolfenstein will be mentioned in the same breath with The Elder Scrolls and Fallout.
The release goes on, stating, "The acquisition by ZeniMax Media joins together two of the finest, most respected videogame developers in the world, combining the first person shooter (FPS) expertise of id Software with acclaimed role playing game (RPG) developer Bethesda Game Studios"
Could this mean that a joint effort between Bethesda and id bring the fully realized FPS / RPG that Bethesda has been aiming for since the release of Fallout 3?  It most certainly looks like it, and gamers are salivating for the chance at experiencing what these two studios could come up with.
Todd Hollenshead, CEO of id Software states, "This was a unique opportunity to team with a smart, sophisticated publisher like Bethesda Softworks where the interests of the studio and the publisher will be fully aligned in the development and marketing of our titles.  In addition, we will now have financial and business resources to support the future growth of id Software, a huge advantage which will result in more and even better games for our fans."
John Carmack, the founder of id Software will continue to be directed by him.  To Carmack, this type of acquisition gives id Software the opportunity for growth as they are now backed by a publisher that features board members like Jerry Bruikheimer and Robert Altman.  The backing of this powerhouse publisher gives id plenty of financial resources as they work on their newest IP, Rage.
In an article on gameindustry.biz, Robert Altman offers his two cents, "We, along with many others, consider id Software to be among the finest game studios in the world, with extraordinary design, artistic and technical capabilities,"
John Carmack went on to tell Kotaku about past publishing woes, "We're really getting kind of tired competing with our own publishers in terms of how our titles will be featured. And we've really gotten more IPs than we've been able to take advantage of. And working with other companies hasn't been working out as spectacularly as it could. So the idea of actually becoming a publisher and merging Bethesda and ZeniMax on there [is ideal],"
The best part of this deal is that id Software will remain untouched.  This news is a silver lining to the torrents of layoffs that have happened with other publishers and developers.  Usually, horrific damage is left in the wake of an acquisition, but this development shows that mergers don't always mean layoffs and cutbacks.
Author: Stijn van den Corput / GekiritZ
Fallout 3, the newest game in the franchise that started with the immensely popular isometric perspective turnbased-combat action RPG, Fallout. A game based on a world bathed in the glow of a nuclear fallout, distinguished by it's retro, art-deco feel in a modern day setting and gritty, dark themes. Looking through some previews from Bethesda's throw at continuing the legacy left behind by the now defunct Black Isle Studios (the original creators of Fallout), the first thing anyone who has played the first two canonical installments will say is; "OMFG IT'S AN FPS NOW!",. Based on what I've seen I can only say two things… Yes, and no.
If you've ever played Fallout or Fallout 2, you'd remember that it was difficult to actually brand it with a genre. It had the intense combat seen in turnbased action games, it brought along a compelling and nonlinear storyline seen in RPG's, it offered a large playing area which you were free to roam at whim, it had elements of a sim-game and touches of adult games. It also incorporated a S.P.E.C.I.A.L. (Strength, Perception, Endurance, Charisma, Intelligence, Agility and Luck) system of character creation and advancement, with perks, traits, tag skills and stats. Perks were added benefits gained when reaching a certain level, and they influenced ways you could interact, your combat effectiveness or other skills. Traits were quirks associated with your persona, most of them having both a positive and negative effect, like the "Jinxed" trait, which would make your, but also your enemies' weapons and attacks fail on them more often, jamming and exploding a lot, or tripping over when delivering that final punch. Tag skills were skills you excelled in, and they leveled up all the faster than other skills (which were aplenty in the game).
Fallout was, when it was released, an entirely new game and genre on it's own, with so many distinct things that stood out from other games, most of all, it all just 'felt' right. Everything seemed to fall into place. The isometric perspective gave the game just that right feel. The characters were rounded and solid pieces of work, even those with little dialogue seeped personality. The world you roamed really breathed that whole post-nuclear fifties' art-deco atmosphere through the 640×480 window you played in.
Looking at Fallout 3, however, it seems the genreblend has gone a little astray. Using an adaptation of their very own Oblivion-engine, Bethesda has turned from an isometric perspective, to a first- or thirdperson view. Footage showing combat reveal a more shooter-oriented approach at Fallout's RPG-like roots. Turnbased combat has given way for realtime shootouts. So yes, in a sense, when it all boils down to what Fallout made Fallout, it's become an FPS. Or has it?
Where we might have lost the isometric perspective and the turnbased combat that so distinctly gave Fallout it's feel, we've gained a whole lot more, and perhaps some of it has been gained for the better. But first, let's look at what's left from the original Fallout before Bethesda got it's hands on it.
First off, the S.P.E.C.I.A.L.-system makes a comeback, along with perks, traits and (tag) skills. Using Oblivion's own RPG-engine, modified to work and react like the original Fallout S.P.E.C.I.A.L.-system, it seems they might have made combat realtime, but retain that authentic Fallout-way of offing your opponents. To add up to that fun, the much-loved V.A.T.S (Vault Assisted Targeting System) also returns, enabling you to pause combat, and take aim at specific bodyparts or weakspots to inflict either massive, critical damage, or to incapacitate opponents. Another nice new addition is that nuclear-wasteland-survival is taken to a new level, as the player is presented with the oppurtunity to combine and transform seemingly useless trash into new items and weapons. Combining a lunchbox with bottlecaps, a radio transmitter and a dismantled grenade will get you a remote controlled shrapnell bomb.
Also, Fallout's 'graphic' depictions of an enemy dying has also been preserved, or even enhanced, if you take the ragdoll-physics in account. Decapacitations, dismemberment, wounds and broken bones, it's all there. So is it merely an FPS? No… Not really… it's more an FPS than it used to be an allround genrebender, but it's still a genrebender at heart, incorporating a lot of good things from many good genres and giving it it's own greasy post-nuclear coating.
The gameplay footage also shows the game's environment and UI, including the improved PIPBOY interface, a handy wristmounted computer that serves as your all-in-one-wonder solution for character development, quest logging, environment mapping, inventory management, health monitoring and various other functions. But I digress… If you were to take the classic isometric perspective view of the original Fallout, make it full-3D, a lot sunnier, a flair of Morrowind/Oblivion and polish it up with HD graphics, you wouldn't be far off from an allround description. Although many old players would have to get used to the way the world is depicted, many agree that it still breathes the same atmosphere it did back when the minimal system requirements were a Pentium 100MHz. The characters still come across as stereotypical yet charismatic individuals, and the vault, the towns and the wastelands look like a direct transition from the isometric original to an enhanced theedimensional translation. Hats off to Bethesda for pulling that one clean off the bat.
What remains to be said, however, is how the final product will live up to it's legendary predecessors. Bethesda has quite a challenge revitalizing such an old franchise. They're both burdened by the prominent fanbase of the series, who want Fallout 3 to be better than 1 and 2, but they also have to appeal to the gamer that didn't have the chance to ever play the previous Fallout titles. This is where a preview cuts short in terms of actual gaming experience. For the fans, Fallout 3 is an answer to a cry that has been echoing since Fallout 2, for the newcomers, it'll be a rollercoaster ride through an environment that might not feel all that friendly to the casual, or generic RPG-player.
It's a relief they've pinned down the atmosphere and setting, as well as the art-deco style and the immediately appealing characters and their distinct attitudes, because without them, you wouldn't have much of a Fallout. They also have every part that made Fallout the game it was, from stat-system up to targetting body areas. But then again, when the final product hits the shelves, it'll all come down to how well Bethesda has put those loose parts together into a solid whole, compelling to both newcomers to the Fallout-universe, and to longtime fans who've gotten tired of speedrunning Fallout 2 in 15 minutes. The loose bits and pieces seen in the recently released gameplay footage just isn't enough to go on. Only time will tell if Fallout ever changes…
My personal thoughts on Fallout 3 are that it'll probably end up a game for fans of the Fallout universe. Despite the buzz surrounding the game, many casual gamers will find the game's complex mechanics and storyline confusing and a little awkward, seeing as they've never been properly introduced by the first two Fallout titles that fans have come to love since their release. Let's hope Bethesda proves me wrong without losing the touch and passion for the franchise they've been showing us up untill now…