Five years on from the last iteration of Wolfenstein, Bethesda and MachineGames have today launched Wolfenstein: The New Order.
To celebrate the rebirth of an old (but still worthy) series, SmegHammer have put together a Let's Play mini series that will go on all the way until the end of the week.
Without a further ado, episode one is now live. There will be an episode added every day so stay tuned to Nisute.com for more exciting developments in Wolfenstein: The New Order.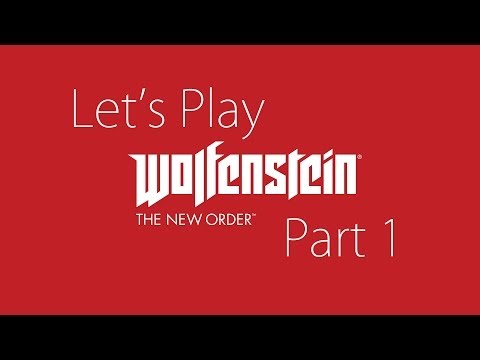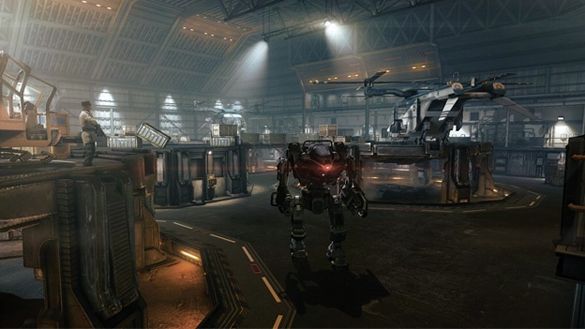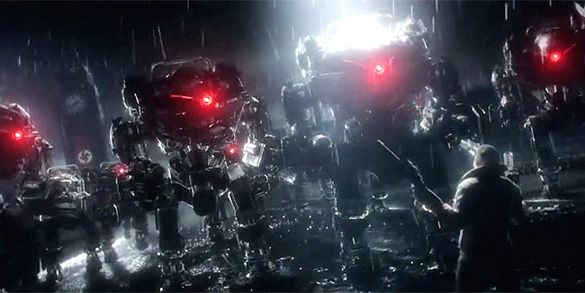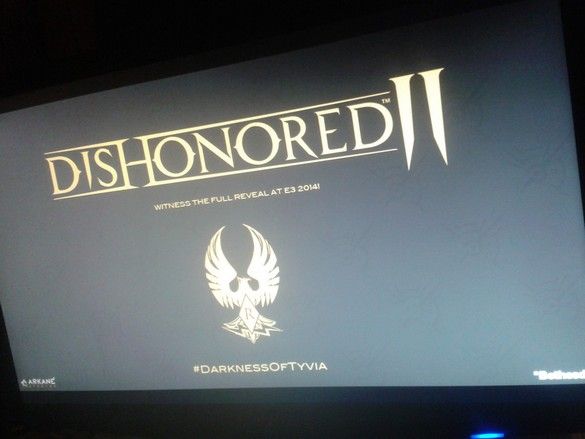 A teaser image of what might hint at a sequel for Dishonored has appeared on the internet. As the image suggests we will have to wait until E3 to hopefully see what Bethesda has in store. In the image you will also find a hash tag saying #DarknessOfTyvia. Tyvia was a place that you weren't able to explore in the first Dishonored game, which makes it a good chance that it would be the setting for the second one if they are really making the game and it's not another hoax like the Survivor2299 about Fall Out 4.
Today the guys at Bethesda revealed the new trailer of  The Elder Scrolls Online. And goodness, its quite the lovely trailer. But lets not forget that a trailer does not always show us what we will be getting. But hey, don't let me keep you from your excitement. So jump in and enjoy!
The Elder Scrolls Online – The Arrival Cinematic Trailer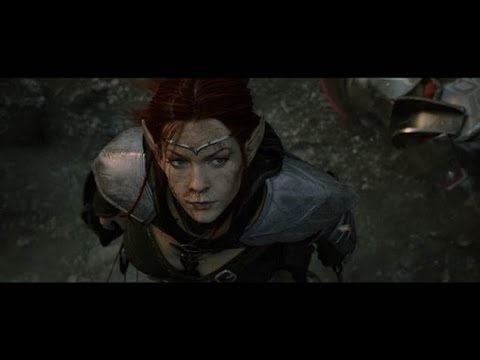 A lot of gamers have wondered whether or not the Elder Scrolls Online would be free to play or require a fee. Well Bethesda has confirmed that there will be a fee after the first thirty days after purchase. It will require you to pay 15 dollars a month after your thirty days are up. By adding a fee to the game, the developers are able to add content without disrupting the player. Read more
Bethesda recently teased us with the announcement of Project Zwei, a mysterious new game project that has now revealed to be called ' The Evil Within'.
The Evil Within is a collaboration between Bethesda and Tango Gameworks, the company of Resident Evil-creator Shinji Mikami. Perhaps unsurprisingly, the game will be a survival-horror game. After being known for quite some time as Project Zwei, the game is now to be released under this new title and planned for 2014, on Xbox 360, PS3 and the next generation of consoles. Not much information is known about the game as of yet, only that you'll control detective Sebastian on an investigation to discover who's responsible for the gruesome death of several colleagues. During this quest he enters a world full of nightmares and gruesome events, that are sure to not leave him unaffected… Also, the game apparently makes use of areas that change while you are traversing through them (whether this is scripted or random has not been revealed yet)! Besides this information, only a trailer without actual game-footage and several screenshots have been released. The screenshots show us the game will be a third-person game and is looking to ooze a dark and gruesome horror-atmosphere. We will have to wait and see what the final product will bring us, but colour me interested!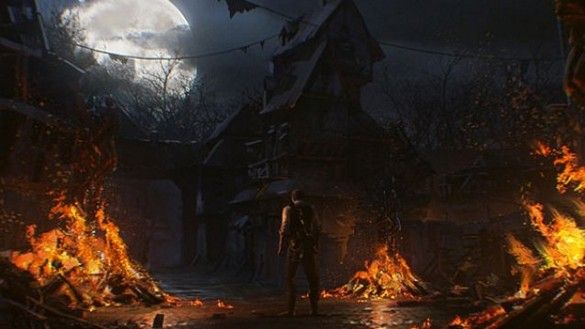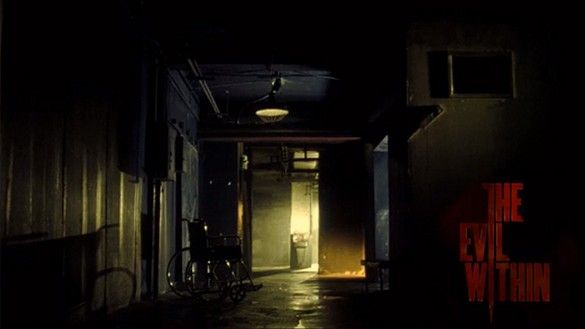 Bethesda's Dishonored has left people intrigued ever since they announced the game and released the first footage. A mysterious assassin wearing a peculiar mask sneaking through a steampunk world utilizing a set of powers borrowing from just about everything awesome automatically makes it interesting, doesn't it? Expectations for the game are naturally very high and most people at Gamescom were eagerly awaiting their chance to experience it first hand. Nisute took that chance as well, but at Bethesda's own quiet and private booth in the business area (so no waiting).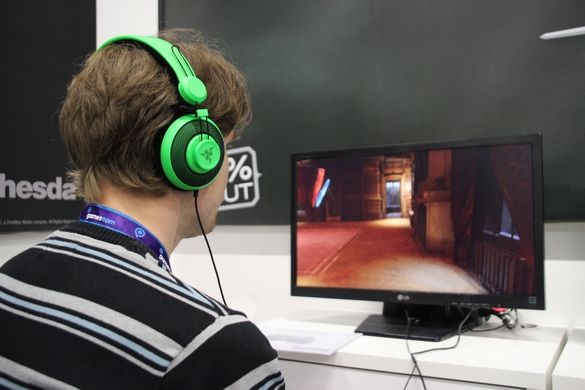 From the moment the short introduction is over and you are left to your own devices, the sense of freedom kicks in. Sure, you have an objective and the location you need to go is clearly shown and always the same, but yours truly must have spent 40 or more minutes getting to a point you could easily reach in 5 minutes or less. Part of it was getting to know the control scheme and dying over and over, part of it was testing, but most of it was exploring and having fun. Sneaking up on guards (even if you can avoid them completely) felt especially rewarding and the large array of weapons and powers at your disposal gives you plenty of options to go about dealing with your enemies. A crossbow with 3 different types of ammo, a pistol, a knife, shrapnel traps, grenades, windblasts, swarms of rats… There's a good number of possibilities here making it fun to go about each encounter. It's even fun to find enemies and try to take them out without being seen or in spectacular ways just for the fun of it, and not because it furthers your goals even in the slightest.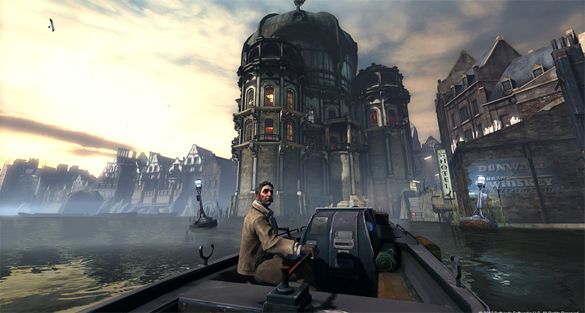 Many members of Nisute's Gamescom 2012 team agree that Dishonored is accurately described as a mix between Skyrim and Bioshock, a dash of Assassin's Creed added in thematically. The Bioshock comparison is reflected in the special powers Corvo (that's the protagonist, a name for a true boss because it's Latin) uses, as well as the steampunk vibe it oozes (though the setting is quite different) and the game's like Skyrim because it was made by Bethesda. More specifically, it uses a first person perspective, a control scheme reminiscent of Skyrim and a different use for each hand. That's right, you can equip whatever secondary weapon you like in Corvo's left hand. His right hand has his trusty dagger glued in. Almost like Skyrim.
Enough about that, let's get to some killing. Though you are an assassin, you don't actually need to kill at all (well, not in the demo we were presented with at least). Guards can simply be choked out if snuck upon from behind or be rendered unconscious by use of a crossbow loaded with fast-working sleeping darts. Even the object of the main mission, a noble lady that needs some assassinating as it seems, does not need to be finished off if appropriate steps are taken. Whether or not this is typical for the entire game remains to be seen, but judging from the many ways you can kill your opponents and the use of your powers it is unlikely many people choose this path.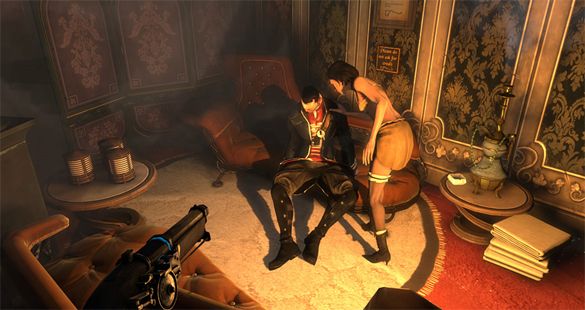 Among the many ways to dispatch your opponents are straightforward ones like simply shooting or stabbing them, but you can choose to sneak up on them and go for the jugular, blow their head clean off from a distance (apparently a crossbow bolt does that to you. Don't ask. Didn't make it less awesome though) or using the environment in clever ways. Though killing is fun, there's actually one aspect of being an assassin that proved to be even more fun: to be sneaky and cunning. Finding your way to your destination unseen is much more fun in these kinds of games and Dishonored isn't much different. Finding out the various ways to get to your target and undo them is also a real challenge, and the fact that game doesn't hold your hand is welcomed.
Despite this, Dishonored didn't feel like a stealth game. The sum of all the features made it appear to be an action game first and foremost, and any approach you take to the game will likely be viable (although watch out with playing Rambo). The vibe you get from watching the reveal trailer wasn't really invoked during the demo, but it certainly kept yours truly entertained and interested in more. It remains to be seen in which direction Bethesda will take Dishonored but the initial impression of the game proved to be a decidedly positive one.
You can mark May 3rd as the day Bethesda Softworks (finally some would say) outed their upcoming MMO The Elder Scrolls Online.

Not much is known right now but game director Matt Firor, a man who has spent the last two decades working with online game development, had this to say; "We have been working hard to create an online world in which players will be able to experience the epic Elder Scrolls universe with their friends, something fans have long said they wanted," "It will be extremely rewarding finally to unveil what we have been developing the last several years. The entire team is committed to creating the best MMO ever made – and one that is worthy of The Elder Scrolls franchise."
If the simple announcement isn't enough to satiate your desire for Elder Scrolls then maybe this little teaser trailer might.
Bethesda is showing of their new IP Dishonored. The game that is scheduled for the current generation game consoles and PC. Up to now there is now release date. But the Assassins Creed like sneaking around on rooftops while having magic like powers in a Bioshock kind of would sure looks interesting. Well here is what Bethesda has to say about it. in the mean time keep your eyes open for more information on nisute.com.
Dishonored casts you as a supernatural assassin driven by revenge. You are the once-trusted bodyguard of the beloved Empress. Framed for her murder, you become an infamous assassin, known only by the disturbing mask that has become your calling card. In a time of uncertainty, when the city is being besieged by plague and ruled by an oppressive government armed with strange technologies, dark forces conspire to bestow upon you abilities beyond those of any common man.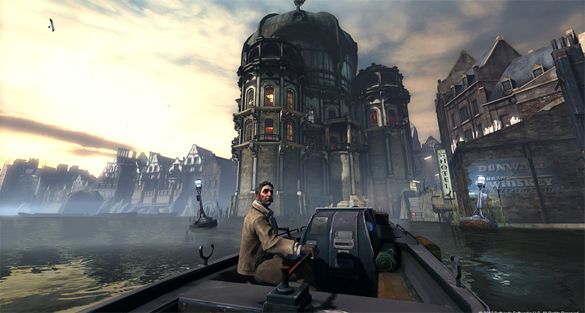 In Dishonored, creatively eliminate your targets with the flexible combat system as you combine the numerous supernatural abilities, weapons and unusual gadgets at your disposal. Pursue your enemies under the cover of darkness or ruthlessly attack them head on with weapons drawn. The outcome of each mission plays out based on the choices you make. For more information on Dishonored, visit these sites: http://www.dishonored.com https://www.facebook.com/dishonored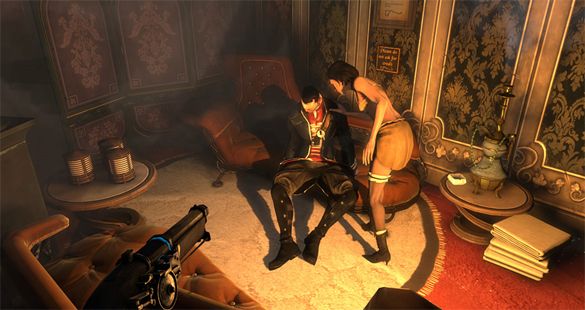 On the 10th of June I attended a public conference, namely the Never Ending Conference at the NHTV-building in Breda, where people give lectures about technology, philosophy, design and problems in the gaming industry. During this conference, which was the third one in a row, Bethesda's Joel Dinolt who's acquainted with one of our lecturers, gave a guest lecture about game architecture and the state in which the games industry's in.
Here is the list of speakers who each gave their own speech, and I can tell you will notice that each of them has their own passion for what they do, which is passed on to you through their presentations. Read more
Developer Splash Damage brings us the game for the Xbox 360, PC, Playstation 3 and its looking very promising indeed!
Game Overview
Brink is an immersive first-person shooter that blends single-player, co-op, and multiplayer gameplay into one seamless experience, allowing you to develop your character whether playing alone, with your friends, or against others online. You decide the combat role you want to assume in the world of Brink as you fight to save yourself and mankind's last refuge. Brink offers a compelling mix of dynamic battlefields, extensive customization options, and an innovative control system that will keep you coming back for more.
The Story
Brink takes place on the Ark, a man-made floating city that is on the brink of all-out civil war. Originally built as an experimental, self-sufficient and 100% "green" habitat, the reported rapid rise of the Earth's oceans has forced the Ark to become home to not only the original founders and their descendants but also to thousands of refugees. With tensions between the two groups growing, Security and Resistance forces are locked in a heated battle for control of the Ark. Which side will you choose?
Game Features
Not Just Another Hero
Brink's advanced player customization offers a near-endless combination of looks for your character – allowing for the appearance of your character to be truly unique. As you progress through the game and acquire more experience, you'll have even more opportunities for customization.
Two Sides to Every Story
Choose to fight through the single player campaign as either a member of the Resistance or the Security and then take your same character online to play cooperatively or competitively against other players.
Blurring the Lines
Take your unique character online at any time you choose! Brink allows you to seamlessly move between your single player campaign, co-op with friends, and intense multiplayer action. Multiplayer takes the story online where you can play with up to seven other people (or AI characters) cooperatively as you take on the opposing faction or with up to 16 players competitively.
Play SMART
Brink uses the familiar shooter controls that you're used to, without frustrating, artificial constraints and adds a new feature: the SMART button. When you press the SMART button, the game dynamically evaluates where you're trying to get to, and makes it happen. Whether you're a seasoned FPS veteran or someone just getting started, you'll be able to make more intelligent decisions during the fast-paced action with SMART.
Context-Sensitive Goals and Rewards
Objectives, communications, missions, and inventory selection are all dynamically generated based on your role, your condition, your location, your squad-mates, and the overall status of the battle in all gameplay modes. You'll always know exactly where to go, what to do when you get there, and what your reward will be for success.
Images: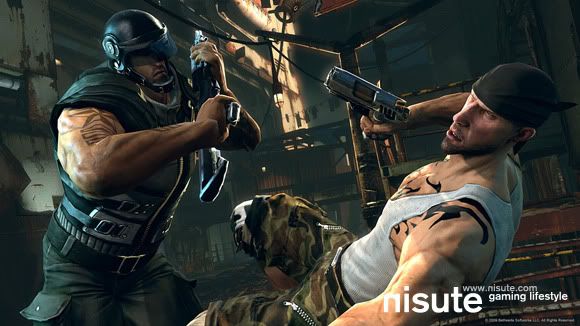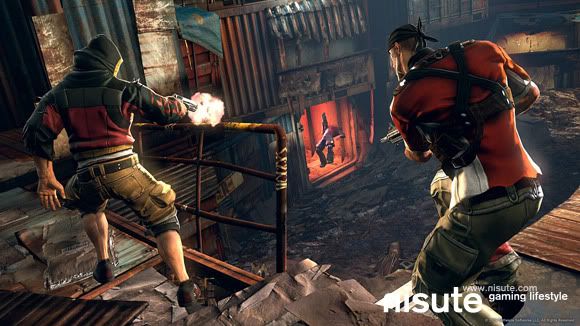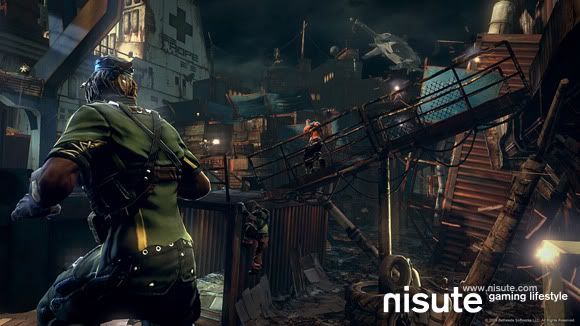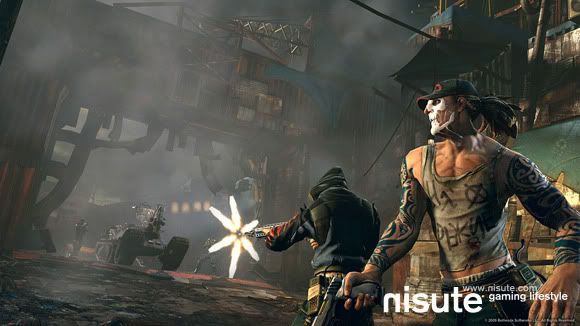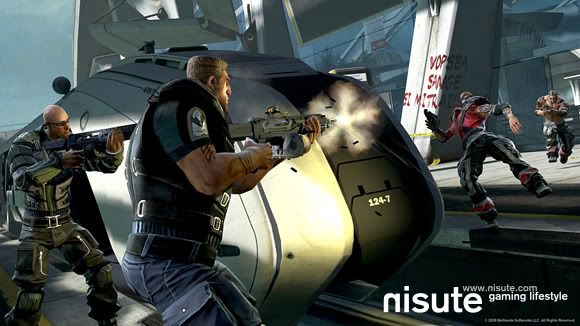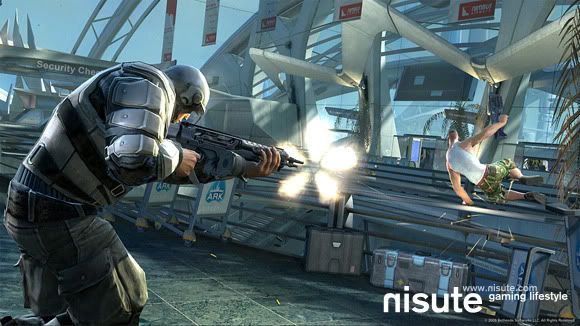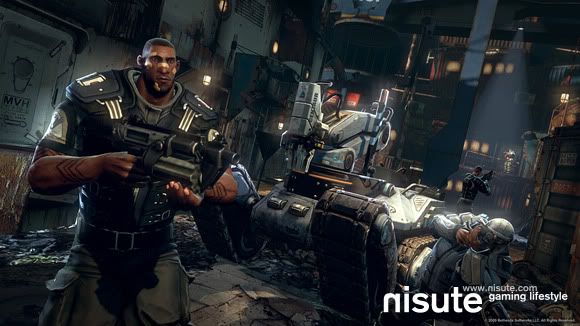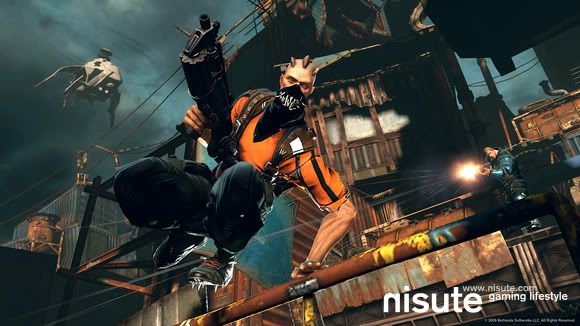 Video's:
Freedom of movement:

container city preview part 1

container city preview part 2

container city preview part 3