The game takes place before World War 2 and you play as a character called William Augustus Grey. He is teleported to a different world while flying over the Bermuda Triangle. This place is known as the Void. While in the Void you will encounter an alien and a human race. You will later on join the human race who a fighting a war against the aliens. The aliens are fighting to try and get back to Earth. The Void is the middle between the aliens world and Earth. Read more
New features to Dark Void PC will include NVIDIA®'s GeForce® 3D Vision technology (wireless 3D Vision glasses sold separately) and amazing physics effects that are accelerated on GeForce GPUs using NVIDIA's PhysX technology. GPU-accelerated PhysX particle systems and turbulence effects are used extensively for weapons and debris effects. Additionally, the game's PhysX turbulence feature – an industry first – enhances the player's jetpack and disintegrator gun effects to create a far more immersive experience.
With the launch of Capcom's sci-fi shooter, Dark Void, right around the corner, Capcom is giving gamers a chance to test drive The Void for themselves this week with a downloadable demo coming to Xbox LIVE and PlayStation Network. (PlayStation Network on January 7, 2010.)
The demo will give gamers a chance to strap on their jet pack for the first time and explore the mysterious and miraculous world of Dark Void through a combination of thrilling aerial dog-fighting, unique vertical cover action and on-foot combat. The teaser level will be a nice introduction to gamers who plan to try out the full game when it ships on January 19, 2009.
If you were watching Comedy Central last night, you may have caught the premiere of Dark Void's new 30 second commercial. Lucky for you, we've managed to snag the video and have embedded it below for your entertainment!
Dark Void is a new sci fi action adventure game that combines an adrenaline fuelled blend of aerial and on-foot combat set in a parallel universe called The Void. This trailer aims to show the differences between using just your jetpack or using an allien aircraft.
You may have seen bits and pieces of this floating around before, but this trailer brings all the elements together for the full cinematic experience.
Turn up your speakers, put this in full-screen view, and discover for yourself why Dark Void has Brad Pitt and the Hollywood guys all hot and bothered…
Just released some brand new screens for our upcoming sci-fi action adventure title Dark Void. The screens reveal more of the characters from the game, including the scientific enigma Nikola Tesla and the nefarious alien race, The Watchers. Scroll down the article to find the image dump.
Oh and do you want to know how to win the Tesla Motors Electric car? just look here:
Capcom USA and Tesla Motors have partnered to bring gamers the Dark Void™ Tesla Roadster Giveaway. The sweepstakes, which began Monday at an exclusive event at the flagship Tesla Motors showroom in Silicon Valley, invites gamers to visit Capcom's official Dark Void site to enter for a chance to win a variety of prizes, including an all-expense paid trip to Las Vegas to test drive a Roadster, as well as the Grand Prize: their very own Roadster.
How to enter? just click  ->here<-
For those that live in europe. We will soon have a nice competition for you to with cool stuff to win so stay tuned!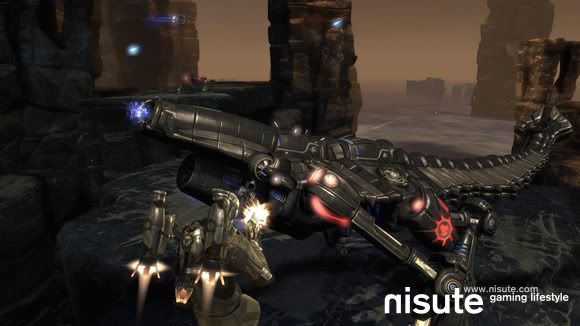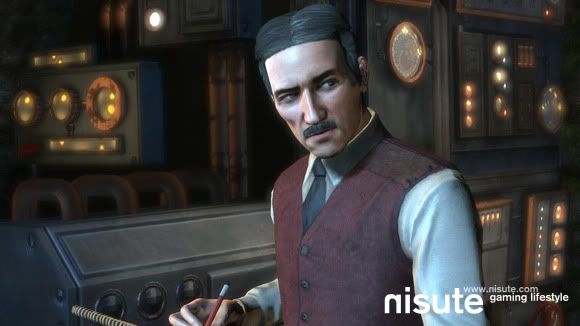 Today we had a nice meeting with Capcom to see a short presentation about the Moto GP 09/10, Lost planet 2, and Dark Void. So read on below for our impressions!

Moto GP 09/10

As exiting as I want it to make it sound. but I never played the ones before so I really can't say if it's better or worse than the ones before. but i can tell you this:
Free updates and content will be available for download after the release, and will released on the platforms Xbox360 and Playstation 3. The release will be on March and 2 months before the release the demo will become available. The game also supports several modes like Championship mode, Arcade mode and Career mode. It will have up to 20 motorbikes available for gameplay in Championship mode. Read more